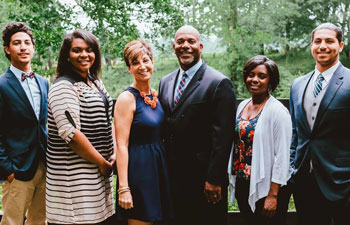 Excerpted from our Chaplain's series of "virtual chapels," featuring reflective writing from staff members across the YMCA of Middle Tennessee
By Kathy Raglin, Executive Director, Sumner County Family YMCA
My husband and I married 25 years ago and we've had an incredibly blessed life together. Not one without challenges and struggles, but still amazingly blessed. We've worked for the YMCA in Nashville, Jacksonville, St. Paul and Houston before returning home to Middle Tennessee in 2009.
Throughout our years together, I have come to realize that the way I looked at the world before we were married was not the way the world really is. My privilege allowed me to think, for many years, that it operates one way, but that was wrong. I've now been exposed to things my white friends with white husbands and white children will never have to face. All those experiences have helped me see and understand in a way I did not before.
Our two youngest boys were born 14 months apart. They are very different. The older one is very outgoing and boisterous and the younger more reserved and quiet. Their body types are as different as their personalities. The younger has been presumed to be the older brother since about age 4. He's just a big guy like his dad. For many years, the older brother would pick at his younger, larger brother. As they grew older, my husband would say to the oldest, "You'd better stop, you're going to wake that sleeping bear," meaning there was only so much his younger brother would take before he rose up and defended himself. Sure enough, around age 14, it happened. As their mom, that fight was super upsetting to me, but we knew it was necessary for many reasons. It changed their relationship. From then on, there was more balance in their relationship. The youngest stood his ground and the oldest knew there were clear boundaries in the way he could treat his brother without creating conflict.
For so long, People of Color have been made to endure racism in America. So many ways that affect daily life and create a different reality than what white people in our country experience. If you are white, you just don't fully understand. I know that now. I won't ever fully know what it's like for my family members, but I know I must use my voice to stand up for them and every other person who is treated as less than equal. We can be better as a Y, better as a state and better as a country. I promise to continue to use whatever influence I have to create positive change, even if it's one conversation at a time.
Many of my white friends have reached out over the past few weeks to check on my family and ask, "What can I do to make this better?" I think many are aware that it is time for white Americans to make things better for People of Color going forward. For many, I believe the past few weeks have made it impossible to sit idly by and wait for someone else to make the change that should have happened so long ago.
What I have suggested we can do is have honest conversations about race – outside of our race. For the most part, we talk to those who think like us, look like us and have the same experiences as us. One of the best things about the Y is that it brings so many people together from all walks of life to one place. We need to make sure we are consistently looking outside of ourselves, asking questions and talking with folks whose life experiences are different from our own. Searching for what we didn't know before so that we can better understand each other now.