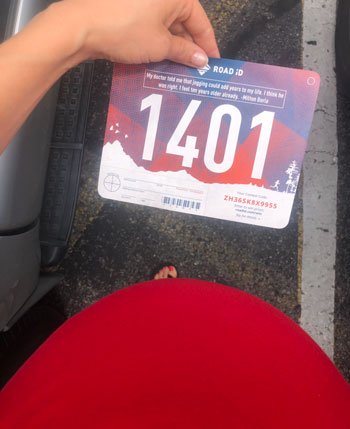 Running a 10K race—6.2 miles—is a challenge for any runner.
Alexis Nuismer has been running off and on for about nine years. She usually focuses on shorter distances and enjoys doing CrossFit workouts during the week. On the weekends, she adds in trail running. "I always enjoy a nice run outside, especially when the weather is nice!" she said.
In 2019, Alexis found out she was pregnant with her first son and gave herself a unique fitness challenge: she wanted to run two 10K races during her pregnancy.
Alexis had enjoyed participating in the YMCA Race Series in years past, so she picked the Maryland Farms Firecracker as one of her two. To prepare herself for the Firecracker, she focused on metabolic conditioning like short-distance running and weight lifting to build up her cardiovascular endurance.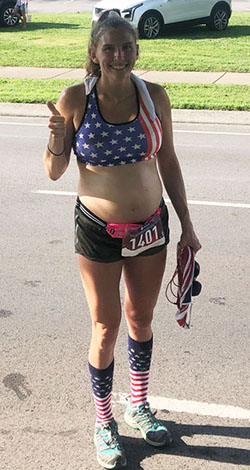 When race day came around, Alexis was six months pregnant.
Not only did she run the Firecracker 10K—she finished with a total chip time of 57:05 and in third place for females 25 to 29. It was a proud moment for the mom-to-be. "Being 6 months pregnant and running that far was a big accomplishment for me," she said. "It made me feel empowered and strong. I kept thinking about how fun it will be to tell my son that I placed in a race while I was pregnant with him."
She also got to do the race with a close friend, which was a highlight of her Firecracker experience. "My favorite part was being able to run it with someone who has been a huge, positive mentor for me over the last few years," she said.
Now that her son has been born, Alexis is continuing her race streak. "I am looking forward to doing the Firecracker again this year and pushing my son in his stroller. I think it's going to be something special that we get to do together for years to come. One day, he may want to run the race himself!"
Join Alexis and the Brentwood community at this year's Firecracker 5K/10K hosted by the Maryland Farms YMCA.